I have had a long-standing hankering for a Hummingbird Cake. I'm not sure what inspired the craving. Maybe it was the abundance of hummingbirds who fly about in the trees outside my window. Yesterday, I finally gave myself the time and permission to make this delicious cake. I really needed to get out of work-mode and baking is always a good way for me to get my hands and brain doing something "non-productive". Funny that I consider it non-productive because it produced a fabulously yummy cake! This is one of my favorite recipes- it comes from the cookbook my mom put together that contains all of my childhood faves:) 
​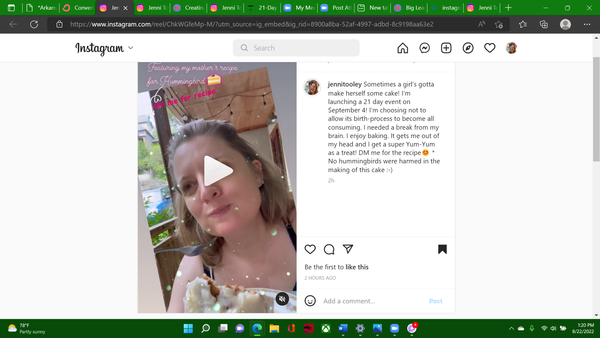 ​ 
I was also inspired to play with IG reels with this cake-making adventure. This one is super fun:) 
I've gotten much clearer on my relationships with social media and have decided to use it as a service and story-telling platform. After all- I love telling stories. Why should I limit that creative outlet only to projects that require big bucks and resources and a whole load of other stuff to share? Maybe the stories on SM aren't as perfectly produced or powerful (doubtful but that's what my brain says) but they are easily produced and accessible. Even if all I do is put a smile on someone's face or inspire someone to dig out their favorite recipes and make a cake- isn't that enough? 
You can join me on IG by clicking the image or finding me at @jennitooley.​ 
​ 
Happy to share the recipe- just ask:) 
See you next time! 
Jenni 
PS: No Hummingbirds were harmed in the making of this cake:) Learn more about the history of Hummingbird cake here.​